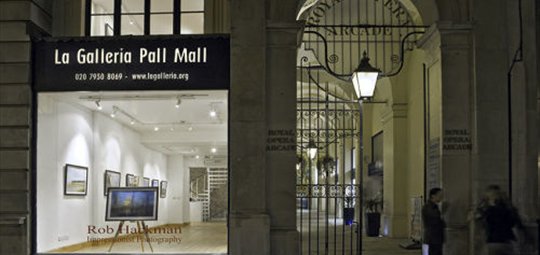 Vid ingången till Royal Opera Arcade, en av de äldsta arkaderna i London, ligger La Galleria Pall Mall.
"La Galleria Pall Mall holds shows of top artists and is host to some of the most prestigious Auction Houses each year." 
"The most prestigious Contemporary Art Gallery and Auction House, located within 5 minutes walk from Sotheby's, Christie's,The National Gallery and The West End Theatres."
Om snart fyra veckor hänger mina sprillans nya tavlor på detta galleri! Den här snåriga och märkliga hösten ledde mig in i en helt ny miljö. Kanske skulle jag se en rovfågel där ovanför en dag, jag vet inte. Men jag fick färgerna, alla känslor jag längtat efter. Och nu reser den första delen av nya kollektionen "The Garden" till London! Otroligt spännande och nervöst!
Den 8 december kör utställningen igång med vernissage och jag packar ner min allra finaste klänning, nytryckta visitkort och besöker London för första gången. Med världens bästa anledning att åka dit.